Yes, I am a petroleum geologist. As I have been posting all along, I do not dispute any of the physics involved in the experiment. Check back through my posts and you will find this to be the case. Does the experiment in fact show that there were sediments in a stratum above another stratum that was there first? I think the video makes a claim somewhere in the first part  that geologists mistakenly use the terms strata and layers rather interchangeably. It is true the terms may be used a bit loosely, and these are not the most precise terms to be using in some circumstances. I have one book about sedimentation that avoids the use of either term. It becomes apparent in the video that they use a new definition of "layer" basically to exclusively define what earlier geologic studies define as a "genetic increment" as developed by Busch. (Busch, D.A., 1971, Genetic units in delta prospecting. Bull. American Association of Petroleum Geologists, 55, 1137-1154,) However, most YEC discussion I have seen also uses the terms in the same way, and not like this video.
Definitions can always be honed and revised. One thing that Berthault points out in the paper below is that the theory of sedimentation happening as a result of transgressions and regressions of the oceans does not deal with the mechanics of the currents' effects on the sediment.
The Law of Superposition basically is along the drift of what you state but the "all" isn't necessary and can lead to wrong conclusions and the use of "above" is not really correct although it does seem to be a possible source of where Guy Berthault's claim of what the experiment shows goes false. You also used the word above in the description of what the experiment showed.
When one looks at unfolded relatively horizontal sedimentary rock, there are sequenced strata. It is intuitive to think that the stratum below was deposited, then the stratum above it was deposited.
But you would not intuitively think that laminations or layers in the rock could be there because of density sorting in water currents. This is what Nicolaus Steno did and his assumptions went unquestioned.
However, this research shows how both laminae and strata form in still water and in changing currents--not according to time (e.g. varves) but according to particle segregation taking place, depending on changes of current speed, and variation of particle sizes.
My comment about dishonesty was about Thierry Henry breaking a rule of the game he was playing, yet the French team getting away with it. However, as the Law of Superposition is very basic geology, it is very hard to believe that Berthault is not aware of the correct application. He does not apply it correctly so one has to wonder if he intended to twist the meaning to suit his purposes.
Before you judge his motivations you should read an excerpt from one of his papers.
Time Required for Sedimentation
Contradicts the Evolutionary Hypothesis
Guy Berthault*

...(1) Principle of superposition
At the time when one of the high
stratum formed, the stratum underneath
it had already acquired
a solid consistency. At the time
when any stratum formed, the
superincumbent material was
entirely fluid, and, due to this
fact at the time when the lowest
stratum formed, none of the superior
strata existed (Nicolaus Steno, 1667,
p. 30, CII. 3.d).

(2) Deficiencies of
Steno's Stratigraphy
The first part of the definition of the
principle of superposition is, "At the
time when one of the highest stratum
formed, the stratum underneath it had
already acquired a solid consistency"
(Steno, 1667, p. 30, CII. 3.d). A stratum
between 50 cm and 1 m is considered
thick. Consequently, submarine drillings
should encounter solid strata in
the stratified oceanic sediments after
a few meters. However, the results of
sea-bottom drilling have shown that
the first semi-consolidated sediments
occur between 400 and 800 m. IsoVolume
46, Spring 2010 263
lated, hardened chert beds have been
found under 135 m of unconsolidated
sediment near oceanic transform faults
(Logvinenko, 1980). Steno's definition,
therefore, which would significantly
extend the total time of deposition by
his concept of successive hardening, is
not supported by these sedimentological
observations...."

Geode...
Once again, the conclusion that the Law of Superposition is not valid in the experiment has nothing to do with what is shown in the experiment where sorting is due to density except of course that rocks settle out of water or air to form successive units. It happened and nobody would dispute that it happened.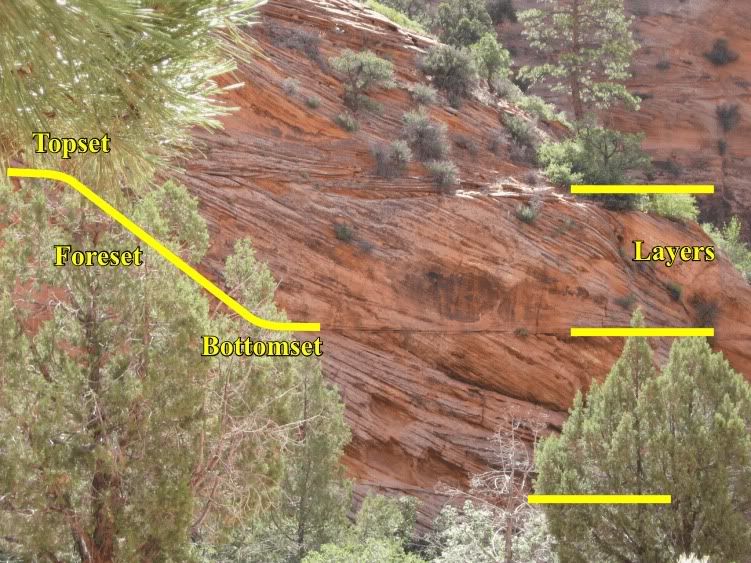 Creation geologists are already using these experiments as a basis to interpret some geologic formations.
I read a paper the other night where a Russian geologist was referring to this research as he interpreted a formation in mountains in the Crimean peninsula.
Geode...
Of course it depends on your definition of what a catastrophic event entails whether or not the experiment shows such an occurrence. What was shown in the experiment may or may not qualify as being representative of such an event. It shows fluid movement in a high flow regime. Is a turbidity current a catastrophic event? They certainly are rapid and can affect a large area. Some probably could easily fit a definition of this for most of us. But what was shown was not as catastrophic as some recorded turbidity events.
Geode, the strata is full of limestone which is marine. In the bioclastic limestone we have broken up but well preserved coral, forminefera, etc.
The southwest united states is covered by red quartz sand. How did this sand get red--it is coated in hematite--it is not opaque.
Sand from Coral Pink Sand Dunes State Park, Utah. These are grains of quartz with a hematite coating providing the orange color. Scale bar is 1.0 mm.
Red Sand
In other words it had to be in water, and most of the sand in the southwest is considered to transported even by unis.
Most minerals are hydrated or hydrous. Some of them even have water molecules between the crystalline sheets in the minerals.
When you go to court, you always start with a hearing, to see if there is ample evidence to go to trial. I think creation geologists have had their hearing, and despite the hindrances of the education, the science establishment, and legal system, they will continue to be put on trial, until their model is much more perfected, as well as supported by evidence.