Pi>> I'm still waiting for a reason I should discard a statistically valid age measurement that is not, so far as we can tell, subject to any significant outside influence >>
Carbon 14 dating is reliable..at least enough to show that a sample which contains an amount far exceeding the limitation of the equipment has an age less than 100,000 years. But you have arbitrarily decided to reject that "statistically valid measurement"...just because you don't like the results. Typical for a non-inquisitive AE.
>> IMO, physics is much more a problem for YEC than biology could ever be.>>
Yeah, part of your problem is instead of seeking truth, you are seeking only that which can help you to make a "problem" for YEC's. Biology is indeed a problem for AE when it comes to soft dino tissue. So the HS science teacher just doesn't LIKE that kind of science I guess. I suppose if you found a chunk of dinosaur meat inside a solid rock formation, you would ignore that too...because it is biological. Eh? Maybe sort of like this human skeleton found inside very hard limestone (no indication of intrusive burial) from the lower Cretaceous: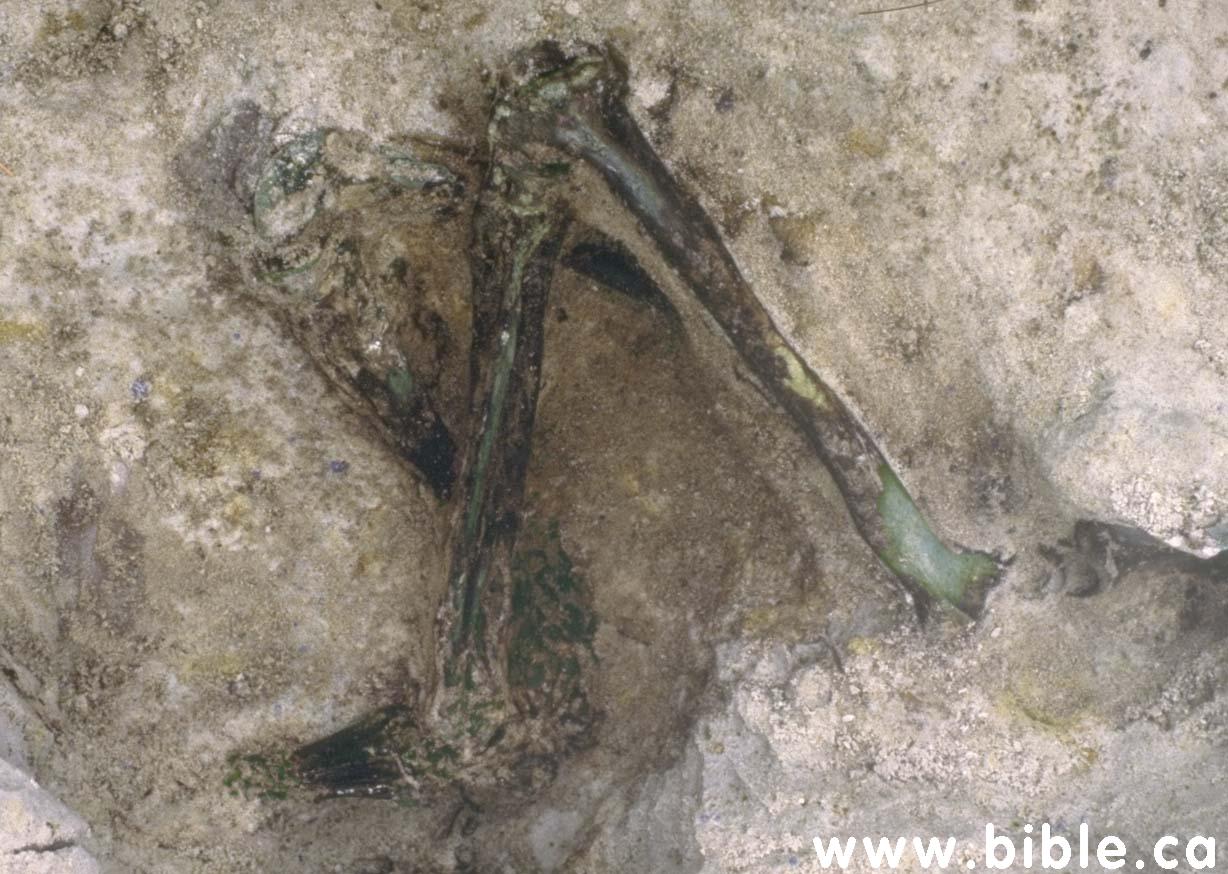 Why would you ignore "biological evidence" like this (OR the very well-established soft dino tissue evidence) just because you don't like what it shows?
>>I see no reason to discard radioisotope dating in favor of biological decay dating.>>

Only one who is religiously devoted to his AE view would ignore the evidence of soft tissue. Radio dating has many assumptions about the past that cannot be proved. Constant decay rate is one of them. The rate of breakdown of tissue AND rate of DNA decay AND the rate of protein degradation AND the rate of amino acid racemization...are all quite well-understood, and they all support the idea that the tissue is young. Long chain molecules like collagen simply can't be made to remain intact indefinitely, even if they can be protected from microbial attack, hydrolysis or other outside destructive forces. These known rates of decay are known even if you choose to ignore those because you don't like what they say against your precious evolutionary theory. To you, the only good science is AE-confirming science.
>>I see this as having about the impact of a flea farting in a hurricane.>>

Nice. I hesitate to carry forward that analogy, but your misinformation about evolution is indeed a lot of wind that would obscure your noticing what might seem to be a small but significant fart...er...fact.
>>I see it as more of a nerf ball than a silver bullet.>>

See...that is your failure. If indeed the tissue is endogenous dinosaur material, then given what has been known for thousands of years about what happens to proteins when they are buried (w/o being frozen), then that SHOULD cause a fair mind to question someone who would say that tissue has been buried for tens of millions of years...or even hundreds of millions. That is precisely WHY Schweitzer's find was so earth-shattering...and denied by most AE's to begin with. That is no nerf ball, except perhaps to those who have willfully blinded themselves, like you. To someone who IS receptive to good science against evolution...I would suggest this would be at least in the top 5 of the most convincing arguments anyone could use. The presence of C14 in these samples would have to be of equal importance. All one can say against it is that some mysterious but unidentifiable bacteria...in LARGE AMOUNTS...snuck in to contaminate the samples. That is absurd. Especially when no bacterial DNA can be identified...when large amounts of it SHOULD be there if indeed large amounts were present to provide their modern C14.
>>To me, that would mean one who begins with no presupposition about the accuracy and/or inerrancy of the Bible and goes from there.>>

HUH? I thought you DID believe it was accurate...but that we YE's had just misinterpreted Gen 6-9 to be history when the real message it intended to give us is that a global flood was only a myth. Which is it? A lie, or a truth which we YE's badly misinterpreted?