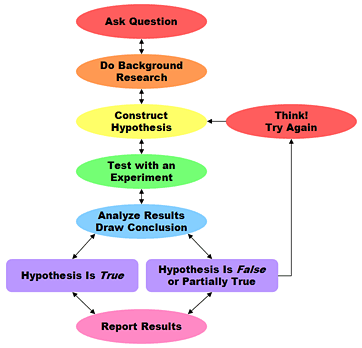 So here is the scientific method. Let's put this to use for evolution. I'll use one example below.
Question: Did creature 'A' evolve in to creature 'B'?
Background research: Fossil 'A' is similar to fossil 'B' in body structure but 'B' has wings. By observing the fossils side by side, this is the only observable difference.
Test with experiment: Not sure how this is done, but let's move on.
Analyze results: 'A' is still similar to 'B' so evolution must be true.
Report results: 'A' evolved into 'B'.
I realize my example is basic but I would like to see some evolutionary facts plugged into the above chart that prove evolution is fact.