It seems like microevolution is generally accepted amongst creationists, and I'd like to explore exactly what this term encompasses.
The definitions I'm familiar with are as follows: microevolution is a change below the species level, macroevolution is above the species level (ie. the formation of a new species).
There are many examples of microevolution. Plant and animal domestication is in my opinion one of the best, which is why I frequently bring up the various dog breeds when I talk about selective pressures. But there are plenty of other examples which illustrate the results of evolutionary change. The banana (or as Ray Comfort might say, "The Atheist's Nightmare") was domesticated from wild bananas that were small and filled with seeds.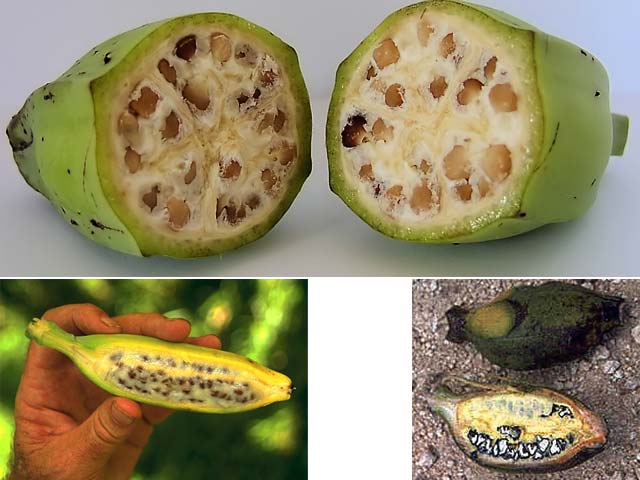 Wild cabbage (which looks nothing like modern-day cabbage) was artificially selected to become many of the vegetables we eat today, including broccoli.
These are pretty major changes, and they've happened within the last 10 thousand years with the discovery of agriculture. From an old world perspective, that's not even a baby step on the timeline. Now imagine that the process of domestication continues for the next 10 thousand years. We continue to select for the biggest ears of corn, the tiniest lap dogs and the fattest pigs. If we define species as two animals that can successfully reproduce with one another, then I suspect that in some cases speciation has already happened (either because of genetic differences or because of physical limitations). And if it hasn't happened yet, it certainly will if we continue to act as a selective force.
There seems to be this false idea that macroevolution is another word for some kind of impossible biological leap, like a hippopotamus turning into a whale or a chimp giving birth to a human baby. But macroevolution is just another word for speciation, which doesn't need to be a dramatic change at all. I think I've brought up this point before, but I'll use it again: If we keep breeding Chihuahuas to be tiny and Great Danes to be huge, eventually they will be different enough it will be impossible for them to mate. I think that it would already be physically impossible, but genetically I'm not sure. The point is, such an event would be speciation and would fall under the category of macroevolution. Of course you will never see a dog turn into something that isn't a dog within only a few thousand years... but that's not what macroevolution is about!
So my question is this: Do creationists accept any type of macroevolution as being true? If not, what is the barrier (genetic or otherwise) that would prevent the small changes of microevolution from accumulating and resulting in speciation?